Lambda Radio Report
---
WRFG Public Affairs
Tuesday 6:00 to 6:30 p.m.
Lambda Radio Report
Hosted by
Charone Pagett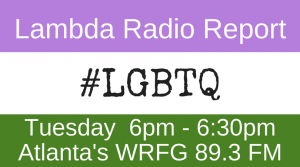 Lambda Radio Report is a radio news and entertainment magazine that keeps center WRFG's mission. We examine various social justice issues such as Poverty, discrimination and other Human Rights violation.
Through commentaries, interviews, Music and poetry we examine that issues of the day through the framework of intersectionality and Human Rights.
You the listener are more than welcome to comment via emails, call and good ol'e snail mail.