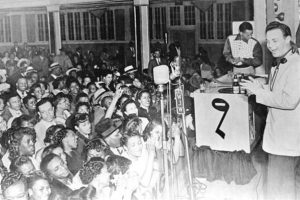 Join us Sunday morning from 7:00 to 9:00 a.m. (Eastern) for the frantic cruise through the blues, jump, R&B, boogie-woogie, early rock'n'roll, and jukebox jazz we call Route 66.
We play the "race music" they didn't want white teenage America to hear in the 1940s and '50s.  They said it was too dangerous and would corrupt the kids. They were right!
(DJ Alan Freed hosts the 1952 Moondog Coronation Ball)
Hearing Louis Jordan, Ruth Brown, Ray Charles, and Chuck Berry  on the jukebox and AM radio brought kids of all race, creeds, and color together to dance, talk, and realize they had been fed a big fat lie.
But Route 66 isn't some boring history lesson. It's a celebration of great music from "back in the day" along with more contemporary artists who play "in the tradition." In other words, it rocks!
For reasons that are too techy and boring to go into here, we take requests a week in advance.  You can call 'em in to 1-404-523-8989 or leave them in the comment section.
See ya Sunday over coffee,
John A
Follow us on Facebook !
Record labels and artists:
Send CDs to
WRFG Radio – Route 66
1083 Austin Avenue NE
Atlanta, GA 30307-1940
Send mp3s to